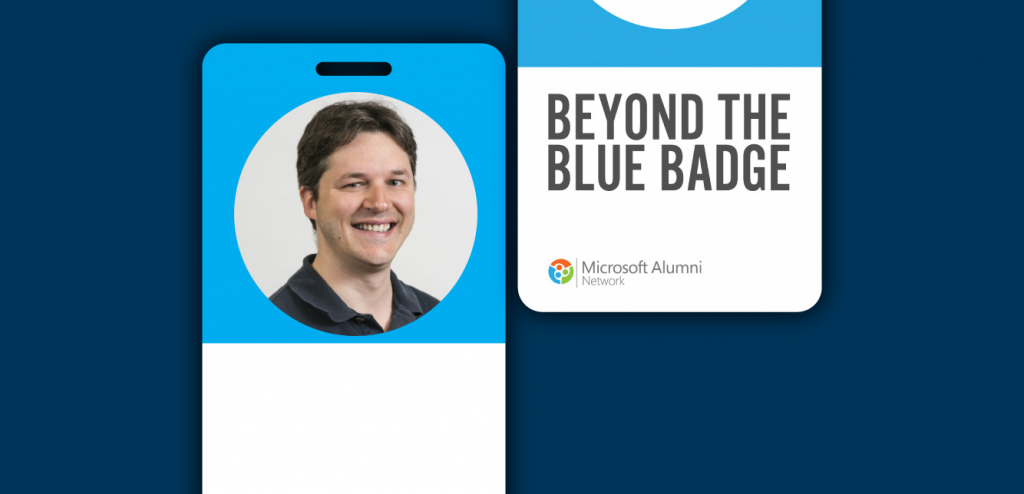 I am writing this post to celebrate my experience at Microsoft. I was inspired by an episode of Beyond the Blue Badge Podcast hosted by Microsoft Alumni Association which I am a member of.
I was hired as Apps & Infra Technical Solution Specialist at the Sales Technical Unit in Dublin. Our division grew incredibly fast and was evolving continuously. When I left Microsoft, my role was Azure Cloud Solution Architect at the Intelligent Cloud division.
Today, I am a "Scrum of Scrum" Master for a few teams in a startup where I lead, train, and coach the organization in its Scrum adoption and scaling.
Here are some quick notes from my experience at Microsoft.

The early days at Microsoft: a dream. A magic atmosphere at the very new One Microsoft Place campus. I was surrounded by thousands of enthusiastic professionals and a great buddy.
Finding mentors when no one is like you: "be yourself; everyone else is already taken" – Oscar Wilde.
I participated in mentorship programs and I have been very lucky for having more than one mentor. I am very grateful that they dedicated time and energy, they supported me and helped me clear my mind on my goals. Precious encounters.
Forging your own path: My passion for Agile was very well known to everyone even before I was hired. How to offer my previous experience as a Scrum Master to my team while succeeding all together in a different role forged my path.
Diversity and Inclusion: Microsoft efforts to improve the company culture were visible and ubiquitous. Diversity, of course, should not be limited to nationality, background, religion, political or sexual orientation, disability. Everyone has different ideas, feelings, sensitivity, intelligence, emotions. Diversity is about challenging the idea that people coming from the same country or region are expected to behave in a certain way. Even if we look alike, each human being is unique. One of my endeavours as an expat was to show my difference and challenge the monolithic thinking around. I wasn't intimidated by peer pressure or national-paternalistic micromanaging style that few used to exercise – luckily not my direct or line managers.
Creating a safe environment in the workplace: I started an initiative called "We are Agile" bringing for the first time the Agile Culture in Microsoft Digital Sales. The purpose was to establish a psychologically safe environment where feedback was welcome, risks were shared, cooperation and bridging were encouraged, and where everyone felt safe, included, and heard.
The need behind the "We are Agile" pilot was that cross-functional sales teams' members need to autonomously establish a common language, share feedback in a safe, respectful environment, welcome diverse ideas in open and inclusive way, ensuring that all opinions are heard and assessed to take actions that increase trust and performance.
I know this is my legacy and I am proud to hear that the "We are Agile" program is going on in some ways.
Unique perspectives equal better performance: There are millions of agile practitioners and thousands of Scrum enthusiasts. Yet, everyone brings their own perspective, experience, contribution. What was unique was to bring exactly that perspective in the right moment to a company that didn't have anything like that before. I was a Scrum Master with a development background working in a technical unit and collaborating with many non technical stakeholders that focus on targets and bonuses. I envisioned it was the right moment to bring agility in or perhaps I felt the need to bring it in.
A collaborative, open-minded, (scrum) team is more confident, adapts to change faster; through transparency, inspectability, adaptability, reacts to adverse situations, takes immediate corrective actions, supports each of its members, keeps morale high and performs better.
Better performance means better results.
According to a study published by Microsoft at that time (2019), 76% of organisations with strong innovative digital cultures expect double digit growth in next five years.
Step up: I lead by example and I don't wait for permissions. I am a team player but at the same time I dare to lead. I am a natural coach.
I have my ideas and I have no fear to express them. I can negotiate but my values and high ethical standards are not on sale.
Exclusion is bullying: I take pride in having stood for people that I saw excluded and bullied. I didn't judge them and I wasn't interested in taking a side, looking at their productivity or their friendliness. I challenged my peers, friends, even managers. As a result, I became a target of a couple of people. Luckily in Microsoft there are hundreds of thousands of supportive, kind, warm, smart people and great leaders too. At that time, I was reading Satya's book "Hit Refresh". It inspired me to see the positive side, to keep going during bad days and taking action to initiate the change I would like to see.
Be an advocate: I have always been a Microsoft advocate. In the battle Windows vs Linux OS I always appreciated the simplicity and usability of the former one. In my opinion, with the motto "a computer on every desk and in every home" Microsoft made a huge positive impact on the democratisation of information technology. As key technical contact for MS Digital Sales, I have been Azure cloud evangelist advocating it to our clients, partners, and devops communities. Today, looking through even a different lens -less technical or business related- I recognize that Microsoft has a wider role in our times. We can all be inspired by Bill Gates' philanthropy and Satya Nadella's leadership, and recognize that Microsoft culture could potentially become a model for many organizations. As well as Bill and Satya, I myself advocate a generative culture based on growth mindset, diversity, inclusion, agility, respect, excellence, ethics.
Optimistic outlook: These are unprecedented times. We are in the middle of a pandemic started at the end of 2019. While writing this, many countries including the one I live in are in lock down. This November 2020, the world is facing a second big wave of contagion and the whole situation can be discouraging.
Yet, we need to look at the future with optimism and let our actions be driven by higher purposes. Humanity will hopefully be more focused on cooperation, common public health strategies, life improvements and digital evolution. A new way of working, thinking and living is emerging. It's up to us to make it smart, sustainable, pleasant, noble, respectful, ethical.