We don't know what the post COVID-19 world will look like and we don't know how long it will take to get used to the new norm. I made a random list of places many of us don't meet at anymore with our co-workers. At least up to now.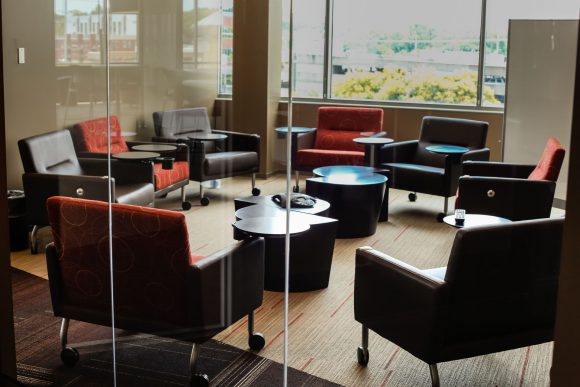 Subway, tram, train, bus
Sidewalk to the office
Parking lot
Office hall
Stairs or escalators
Waiting for the elevator and inside the elevator
Office corridors – while keeping the doors open for others
Printer corner
Kitchenette, coffee machine or kettle queue
Fridge, water dispenser, vending machine
Relaxation room, creative space or other common sitting areas
Open spaces
Small meeting rooms
Large meeting rooms
And medium ones
Near coffee tables and newspapers – commenting on a Dilbert comic strip
Cafè, snack bar, bistro in the same building or next to it
Restrooms, by the mirrors
Backyard, garden or terrace
A storage room, a cellar
Archive
Smoking area
Warehouse
By the windows
Your desk
Your buddy's desk
Time clock badge corner
Park or plaza across the street
Pub, diner, tea room
Bakery or a shop close to the building

Subway, tram, train, bus…
Of course the list is made with the type of offices I am familiar with.
This list can be completely different depending on the profession.
What places would you include in your list? Comment to let me know.
* * *
I write about organizational patterns, transformational leadership, healthy businesses, high-performing teams, future of workplace, culture, mindset, biases and more. My focus is in leading, training, and coaching teams and organizations in improving their agile adoption. Articles are the result of my ideas, studies, reading, research, courses, and learning. The postings on this site and any social profile are my own and do not represent or relate to the postings, strategies, opinions, events, situations of any current or former employer.
This article has been published for the first time on danieledavi.com by the author Daniele Davi'.
© Daniele Davi', 2021. No part of this article or the materials available through this website may be copied, photocopied, reproduced, translated, distributed, transmitted, displayed, published, broadcast or reduced to any electronic medium, human or machine-readable form, in whole or in part, without prior written consent of the author, Daniele Davi'.